FIRST LEGO LEAGUE AND FIRST LEGO LEAGUE Jr AT SEK-ECUADOR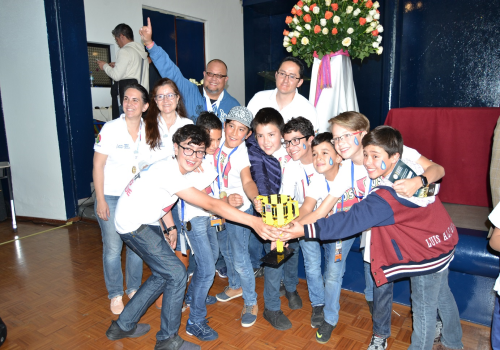 Congratulations to our winners and all the teams that participated at the FIRST Lego League and FIRST Lego League Jr. This global competition organized by LEGO Education, places our Institution as a pioneer in the learning in STEM (Science, Technology, Engineering and Mathematics ). For several weeks our teams prepared to meet technological challenges by applying concepts of mechanics, engineering, robotics and programming in a fun and creative way. The FLL challenge is divided mainly into two parts:
A research project, in which the teams worked on the collection, treatment, transportation or use of water in search of a solution to a specific problem. The winning team investigated the process of collection, treatment and purification of the autonomous water system that our school has, during the development of this project the students could learn more about the technical specifications, advantages and disadvantages of this system.
The second part consisted of the competition, in which our students had the opportunity to build robots with Lego pieces equipped with motors, color sensors, contact, ultrasonic and gyroscopes that allow to meet challenges of obstacles and movement on a competition board . Hydrodynamics was the central theme of the tournament, where the teams, using their robots, learned about how to move, use and dispose of the valuable water resource in a responsible manner.
During the preparation and the competition the participants showed that the most complex tasks can be solved with effort, teamwork and friendly competition spirit. Applying daily the fundamental values of the FIRST LEGO League, which distinguish this program from other tournaments of this type.
The FIRST LEGO League Core Values are the cornerstones of the program. They are among the fundamental elements that distinguish FIRST LEGO League from other programs of its kind. By embracing the Core Values, participants learn that friendly competition and mutual gain are not separate goals, and that helping one another is the foundation of teamwork.
We are a team.
We do the work to find solutions with guidance from our coaches and mentors.
We know our coaches and mentors don't have all the answers; we learn together.
We honor the spirit of friendly competition.
What we discover is more important than what we win.
We share our experiences with others.
We display Gracious Professionalism® and Coopertition® in everything we do.
We have FUN!

Now we have a great challenge, to represent Ecuador at the First Lego League World Championships in April 2018 in Houston, which will undoubtedly be an enriching experience for the future of our students and our Institution.

Congratulations to all the participants!



Autor:
Matías Robayo
Profesor