LEADERS AND ENTREPRENEURS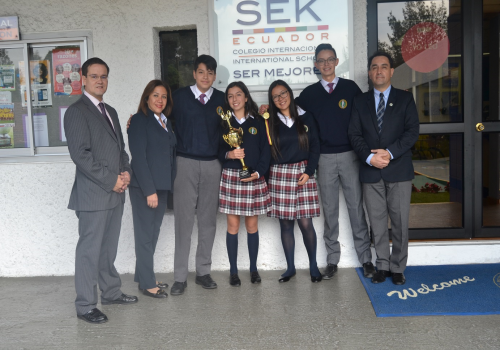 The leaders and entrepreneurs from our School are those people who dare to break with the established schemes, to create companies or who have profitable business ideas; who seek creativity, original solutions, to generate opportunities, are motivate others to develop innovative business ideas, new solutions that anticipate and improve the functioning of existing products or services, through new models or ideas.
Our School successfully participated in the "Concurso Intercolegial de Emprendimiento II Olimpiadas Emprende y Actúa", organized by the service consulting firm ACTIVAOS, and sponsored by the Crisfe Foundation, CONQUITO, AEI.
Our entrepreneurs presented their company called SADAC, with a creative and innovative proposal, that projected the production of clothing with recycled textile material, with new designs for young fashion professionals. This competition brought together 48 institutions that presented their projects. Our school obtained the third place.
Its founders, María Sol Andrade, Ariana Calderon, Cristian Cabasacango and Antonio Sosa, have been invited to continue with the development of their idea, in the process of incubation sponsored by CONQUITO.
Congratulations!!!



Autor:
Fernando Yépez
Profesor